* interesting fact to share: did you know that the quote "bubble, bubble, toil & trouble" is actually from duck tales, and not macbeth? the original quote from macbeth is "double, double toil and trouble!"
i'm not really a nature-loving person in the sense that i hate to be out in the sun and usually try to stay away from situations where i'm most likely to break into sweat! this sunday morning, however, was an exception. it was a lovely morning and the weather was absolutely gorgeous with clear blue skies made even brighter by warm rays of the morning sun.
in the spirit of christmas and the holiday season, i decided to join my aunt who had planned to take her kids and ilaika out to the park. i was also curious to see this park in particular as i'd driven past the area once and was very impressed with the development in general.
Desa ParkCity
is a beautiful development with picturesque landscapes and broad, tree-lined pedestrian walkways; a simple luxury that is unfortunately rare in KL. each small "township" (residential neighbourhood) is a gated community of its own and in the heart of these townships is The Waterfront, the "town centre". it's not quite the town centre that onewould imagine by the given term. it's more of a small community shopping block which brought to mind the community areas found in smaller towns outside of Central London.
The Waterfront is complete with ample parking spaces, grocery store, atm facilities, pet shop, restaurants, cafes and some interesting looking shops. it even has a
Coffee Bean & Tea Leaf
outlet and a branch of one of my favourite japanese restaurants,
Rakuzen
- both of these overlook The Central Park which lies just behind the shopping block.
and this was where we spent a good part of the morning. The Central Park was not like any other park i've seen in KL. there were no brightly coloured slides and swings normally found at other playgrounds. instead, there were odd minimalist steel contraptions which looked futuristic and did not appear very inviting at first glance. of course, it didn't help that all the contraptions were of dull greys and blues. thankfully, looks can be deceiving...somehow the kids figured out how to use these contraptions; some were pretty straightforward and loads of fun...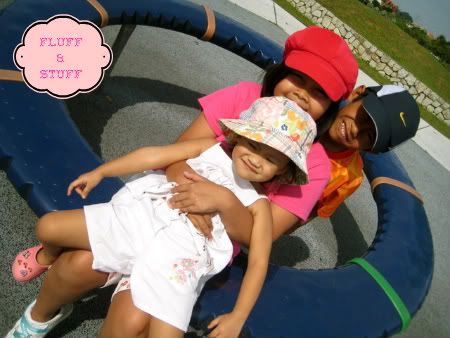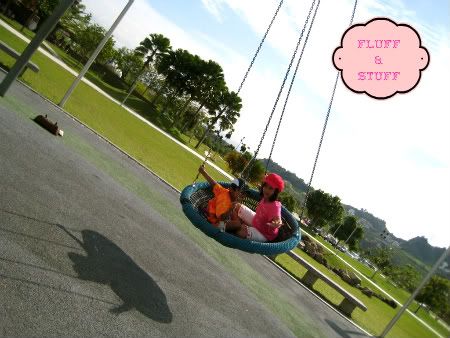 ...but others involved a little bit more trial and error!
this being said, i would assume that the target audience would be slightly older kids for ilaika wasn't too impress with the whole minimalist concept...
...and she was much happier playing with her bubbles...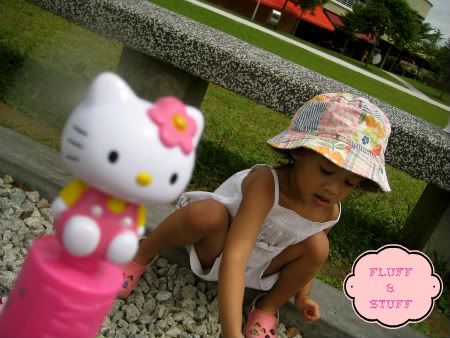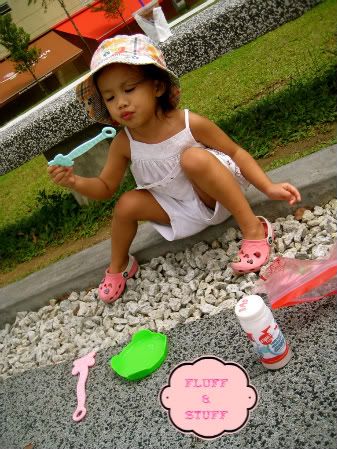 our sunday park adventure was unfortunately cut short by some bubble trouble...ilaika, in her excitement, fell on her knees whilst trying to catch a bubble. lots of sad tears accompanied by shrieks of pain (mostly drama at the sight of a teeny weeny drop of blood) and a few cuts and bruises later, the poor thing didn't even squeak a protest when we decided to call it a day. all tired out, she fell asleep almost as soon as we got in the van! honestly, i did too, as soon as we got home!