as mentioned in a previous post, i was working on a
vespa order
. here's an update on how that turned out...
working on the artwork was much simpler than i originally imagined as my lovely clients had arranged to have carricatures made for each of their friends (and where not possible, they found similar ones online). so all i had to do was minimal touch up of the artwork.
i also found the vespa font and included a website address:
www.sky-zoom-38.com/
folowed by each person's name. it's not an actual website of course...sky's the birthday girl & they were celebrating her 38th birthday...so sky-zoom-38 in vespa font, get it?
the tricky part was making XXL-sized bollipops. i
usually
make them about five to six cm in diametre but this time, i was asked to make them double the size! i had a few trial runs on these, prior to the actual delivery date, just to make sure the sticks were stable enough to hold the gigantic biccies...here's what it looked like: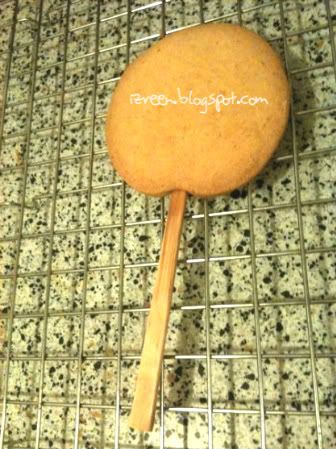 i couldn't resist placing the watermark right in the centre of the bollie ;)
thankfully, after a few trials, the bollies passed "my confidence test"...here are some of them, decorated & packed...check out the cool carricatures!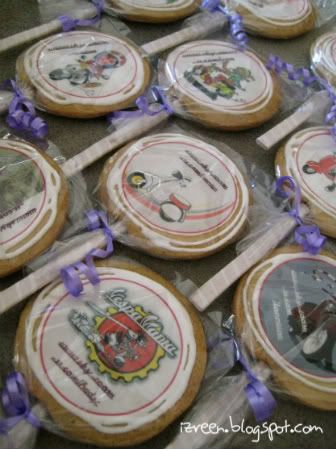 this last one is a carricature of the birthday girl...how adorable! guests at the party loved the bollies so much that i received two repeat orders the very next day ;)