i shared some of these pics in my
previous post
but they were kinda small there. i'm posting them again so you can see a close up of the personalised frames. this was the first time i tried out d.i.y. gifts and they were so pretty, they do deserve a post just on them ;)
i originally wanted to frame a 3-D butterfly cut out which meant the frame needed depth. this is the one i made for the cake table decor: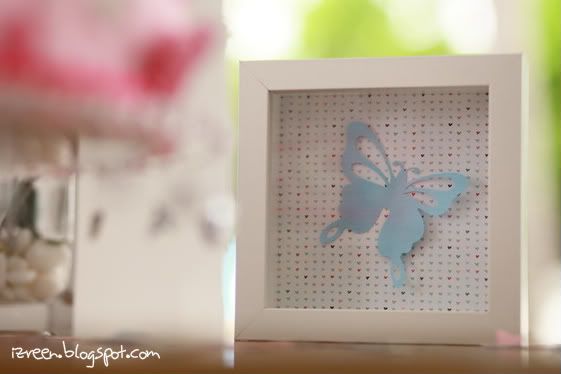 unfortunately, this frame was a lil too pricey as i had to buy and make sixty frames for the sixty kids that were coming to the party so i had to settle for a simpler frame...
these plain solid pine frames from
ikea
were perfect as they came with durable plastic instead of glass - definitely more child friendly!
i love the antique white stain effect that gives wood a really romantic look so i decided to have these frames stained white. i chose white stain instead of paint so that the stain dries clear and the wood grains can still be seen. you may have read about my "staining" work-in-progress
here
but in case you missed it, here's a pic of the frames drying after the second coat of stain.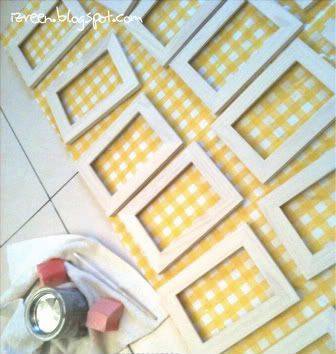 i would really have preferred having done an extra coat or two but after the second coat, i thought they were pretty as is and i had to wait 4 - 5 hours between each coat so you can imagine, it was time consuming to add on more coats. and really, the kids might not be able to tell the difference between two or three coats anyways!
then i printed their names in a pretty font. for the girls, it was their full first name and the boys, their name without the first letter. here's why:
- for the girls -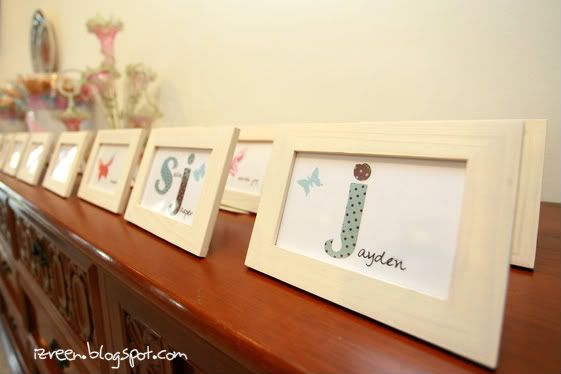 - for the boys -
as you can see, the girls' frames had a larger butterfly cut out so it looked more girly and the boys' ones had a tiny butterfly but their first initial was a huge cut out letter which looked less girly and way cooler ;)
i made a special one for ilaika too without the plastic cover so the butterfly had the 3-D effect...(i didn't want to do this for the other girls cos i was worried they'd tear off the butterfly!)...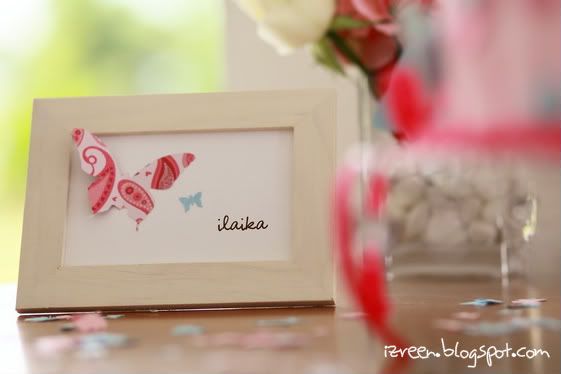 i fell in love with this idea and felt it was perfect for gifts*. i figured the kids may not cherish it so much right now but i'd like to think they might when they're a little older. i also imagined the parents hanging these on the wall of the hallway and for the ones with siblings, they'd have a few frames in a row with all their names. how absolutely lovely!

* p.s. - they're also perfect cos they're so simple to make and won't burn a hole in your pocket ;) let me know if you try this d.i.y....would love to see how it turns out...