i first used a
lilypie ticker
when i was expecting ilaika. it was exciting to keep track of the pregnancy and the
lil quotes
indicating development stages were fun to read. i
remember
eagerly looking forward to each weekly quote
(or was it daily? i can't quite recall now...)
and counting down to the day when our little angel would bless our lives.
a few years on and i'm still using
lilypie
as a milestone of our daughter's life. however, it's been sometime since i actually took notice of it...until this morning, when i briefly glanced at it and realised how quickly the days and months have gone by...
my baby is 2 years, 11 months and a day old...which means she'll be three in less than a month!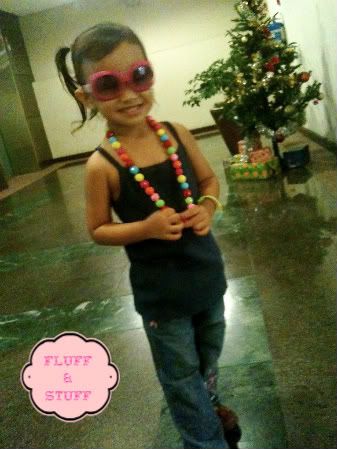 - look at how "grown up" my baby looks here -
oh dear.
oh dearie me indeed. i have less than a month to plan her birthday party. somehow, she's already talking about it and yet, i haven't gotten around to planning anything. so i thought...no problem - just choose a theme and then i can go about with the invites etc. as simple as that...
on the contrary, it was far from simple as i couldn't even come up with a theme. so i started putting together a list of things she loves which led to this post. here's some sharing on ilaika's recent and current obsessions...