have you met this scruffy grey teddy bear? i'm sure you've seen him around...this adorable "me to you" bear is the cutest lil soft toy, ever! well, maybe not the cutest ever...my ilaikabear is my cutest soft toy ever but hey, i'm a biased mummy ;p

aaanyways, back to mr "me to you"....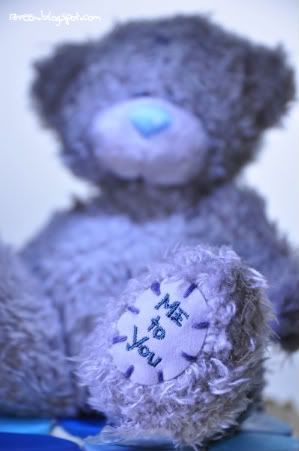 * picture courtesy of jaime tan
a few months ago, i was asked to bake a cake for baby aston's first birthday. inspired by
ilaika's first party
, aston's mum, jaime wanted a boyish version of the bears & blocks cake using the "me to you" bear. with the colour theme of blue and grey, here's aston's first birthday cake...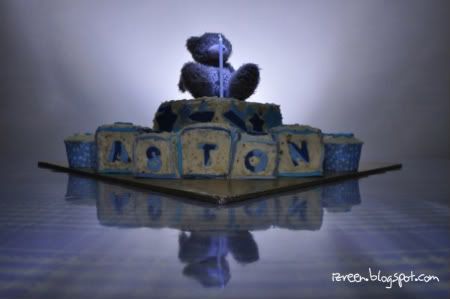 * picture courtesy of jaime tan
i plonked the actual soft toy on the top of the cake so aston could keep the cuddly bear for himself.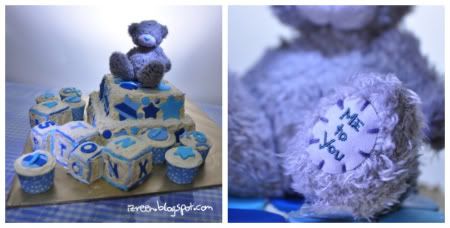 * picture courtesy of jaime tan
to match the bear's scruffiness, i made the vanilla buttercream frosting really messy and mixed it with crushed oreos...this vanilla oreo frosting was really divine. eaten cold, it tasted like choc chip ice cream!
i played around with different shades of blue to make the fondant stars and circles that decorated the rest of the cake. this was the fun part as fondant is very much like
play doh
;)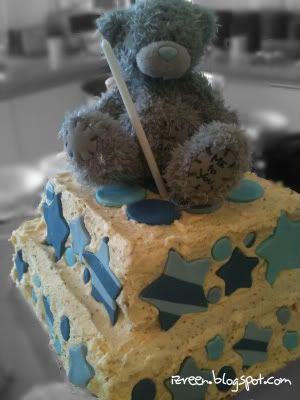 oh i also made these cute cupcakes with matching stars and circles...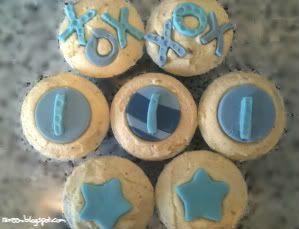 my personal favourite is the XOX cupcake...from me to you, lil aston ;)