i had a lil bit of trouble with my skin for a few months until quite recently. it wasn't exactly chronic eczema but it was most annoying to have zits popping up one by one...and my tolerance for breakouts reminiscent of my teen years was just wearing thin (at least back then, i could rely on trusty old mr roaccutane but alas, my dermatologist forced me to end that relationship the day i got engaged).
i tried all sorts of zit-zapping ointments but none seemed to really work. i'm not exactly sure why my skin starting acting up the way it did...it could have been due to numerous factors - lack of sleep, stress, that time of month (or it's effect on my skin lasting way longer than the actual time of month itself!)...could have been all of the above, really. whatever it was, i needed a solution and i needed it pronto.
honestly, my original intention was to find a rich and moisturising soap for use in the shower but when i visited her
site
, i was really surprised to find that she actually recommends certain soaps for not just the body but also for the face and hair. for someone who has been very particular with facial products, i was surprisingly sold!
so i ordered whatever she had in stock (she'd just been blessed with a darling baby boy so her stock was running pretty low) -
dark chocolate soap
,
clarity soap
and
spiced coffee soap
. here's a lil promise to be delivered with usage of each soap, as found on michelle's site....
the soaps were so pretty that i just had to snap a pic of the first bar i unwrapped. here's introducing clarity soap...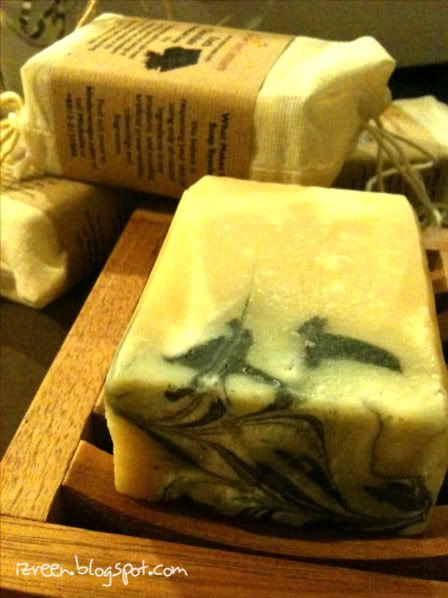 can you guess what i did next? heheh i jumped into the shower, of course!
though i was still a little apprehensive at the thought of using the soaps for my face, i thought - what the hell, it can't get any worse. well, it's been exactly a week now that i've religiously used clarity in place of my usual facial wash and oh boy, it's done wonders! i have not had a single zit on my face for a week...absolutely zilch! isn't that amazing? it could still be too early to tell for sure but for now, i'm definitely a happy bunny ;)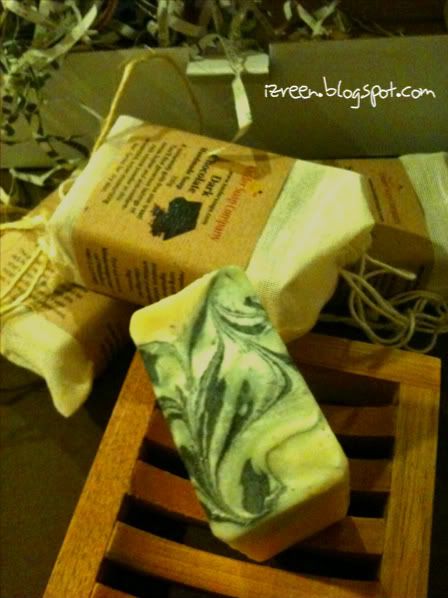 according to michelle, these pretty black swirls are charcoal, "
activated carbon, to be more precise and ironically it gets your skin unbelievably cleansed from impurities"...and cleanse it certainly did. i've never felt my skin feel so squeaky clean! i am so very glad i ordered them.
thank you, michelle...yours is truly a kinder soap company ;)