last monday, zain's twitter read:
In a strange turn of events, I suddenly find myself at Chaka Khan.

yes, strange indeed. in the very last minute, a friend of ours had complimentary tics from her uncle and thanks to her
twitter
post, we managed to grab them an hour before the concert. both zain & i had thought of going but with all the raya celebrations and the exorbitant price of the tickets, we didn't really give it too much thought. so in a stroke of pure luck, i called
sazzy
and within an hour, we found ourselves at
hilton sentral
for
chaka khan
's "funk this" concert :)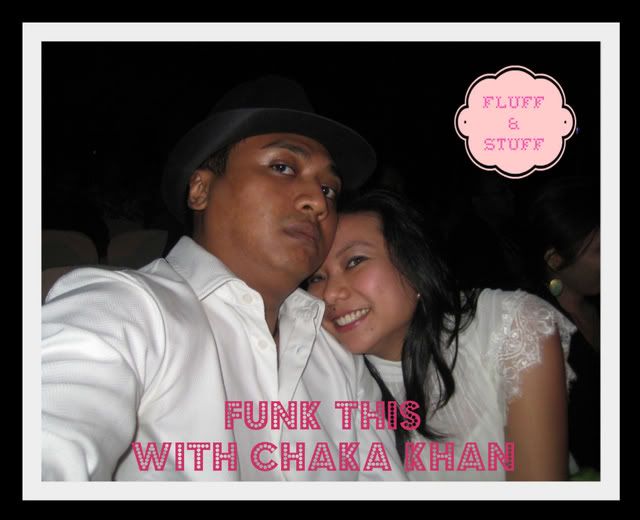 like the true diva that she is, the concert started an hour after the scheduled time, the backup singers & band started the show before she got on stage and she walked off whilst they were still playing. there were no lengthy goodbyes...

there wasn't very much publicity leading up to the concert so i was a little lost when it was announced that chaka was to receive '
The Brand Laureate Brand Personality Award
'. apparently, this was the reason she performing in kl. From
The Brand Laureate
initiated by The Asia Pacific Brands Foundation, this award is considered the grammy awards for branding. the award recognises the efforts done by chaka and her
Chaka Khan Foundation
to encourage youth around the world to take education seriously in order to be successful in life. with the audience in a standing ovation, chaka humbly received the award with tears in her eyes. it was a proud moment that i was honoured to have been able to share with her that night.
apart from the standing ovation, the crowd mostly remained seated right til the very end. a little odd i thought and as an one of ilaika's expat classmates' mum put it, "Don't get me wrong, I had loads of fun...what I thought was strange was that 'KL`s elite' had paid a lot of money to just sit there and not even move!!! Not even tap their feet....."

this, i assure you, was not at all a reflection of her performance. it was powerful and so effortless that i was in awe of her throughout the whole concert. i truly enjoyed myself and before i knew it, about an hour had gone by and she had walked off the stage, signaling the end of the concert. i really wished it went on a bit longer but alas, a diva is a diva...