* sorry folks, a disclaimer is necessary - this post doesn't contain sex and drugs and has very little rock & roll (though i bet the title certainly caught your attention!)...this post does however contain a certain rockstar's birthday do...read on for the latest goss on party fluff ;p



zain hates surprises so i've never bothered throwing him a surprise birthday bash. but this year was a little different. he's had a few rough patches here & there and several great big wins so i wanted him to feel special, especially on his birthday. we had planned an
avillion pd
get away with his childhood buddies but in the last minute, those plans were cancelled (long & dramatic story here so let's just leave it as that) and we had to celebrate zain's 31st in kl. with so little time to plan anything, we decided to just have dinner with close friends...but then my conscience got the better of me. i've been so gung-ho planning & coordinating parties for ilaika & other people that it didn't seem right to not even have balloons at my own husband's birthday do! he is after all, supposedly my better half (
supposedly
being the keyword here!)...
with less than 10 hours to put things together, this was how the day unfolded.
1100 hours
i sms-ed our friends to remind them about the dinner & at noon, reserved a table for ten pax at
alexis bsc
.

1400 hours

with no particular theme in mind, i headed to the party shop...admittedly, i had already made plans with a cousin to look for decor for her baby's
potong jambul
ceremony & that's when lil ms guilty sneaked up on me...so i bought a few balloons - some nice black ones with colourful birthday wishes mixed with elegant looking silver balloons. that was supposed to be it, as far as the decorating went...and then i stumbled upon this:
how cool and how completely fitting for the occasion! that's when i was inspired to theme the dinner "zain's a rockstar" party - it represents many things present; like how he loves
guitar hero
and
rock band
and "jams" with this bunch of friends attending the dinner and also "rockstar" is a term we use to signify one's ability to "be da man" and achieve great things!
so i bought the sunnies, lots of colourful shredded paper and some interesting candles that promised magical & colourful flames. i called a friend, asked her to keep the balloons & help set up the decor and delivered them to her house.
1600 hours
at this point, i realised i didn't have a cake! i would have loved to bake one but there wasn't much time. oddly enough,
alexis
didn't have any available but luckily for me, my mum had made her infamous carrot cake the day before. there were a few left over in the form of cupcakes so i stole them all!
1645 hours
once i start planning something, i get caught up and will keep wanting to do more. so not feeling quite satisfied with just balloons, i stopped by another party shop on the way home. there, i found a cool plate for the cupcakes, some letter stickers to make out his name and little gifts for our friends. ilaika was with me and was SO excited with the things at the shop that she started planning her next party! of course, she also realised that it was daddy's party and a party meant candles & cake! so she started whining that she wanted to tag along...
1800 hours
we got home & i locked myself in the study to work on the letters & gifts. i was done an hour later, just in time to get myself dressed & ready for dinner. i felt bad about leaving ilaika at home so i told her to get ready too...
1930 hours
zain was rushing us as he was hungry but i didn't want to arrive too early...just in case the decor had not been set up yet so i purposely took my own sweet time getting out the door! thankfully, when we got there just after 2030 hours, the decor was in place and zain was pleasantly surprised ;)
....and then the dinner & cam-whoring started...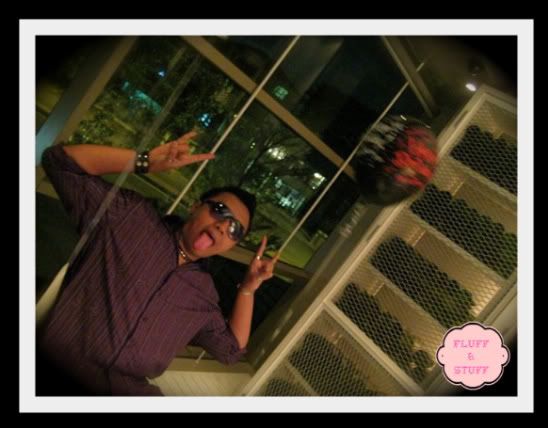 - ilaika, the mini rockstar -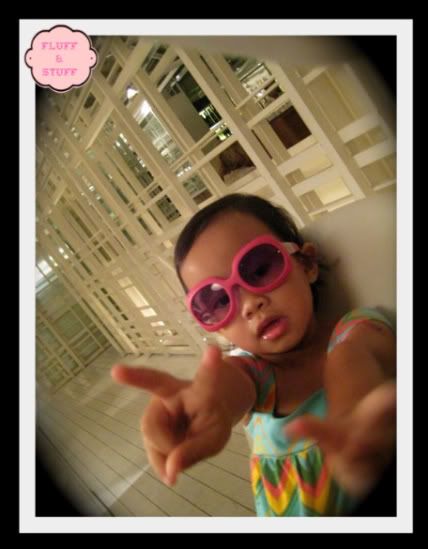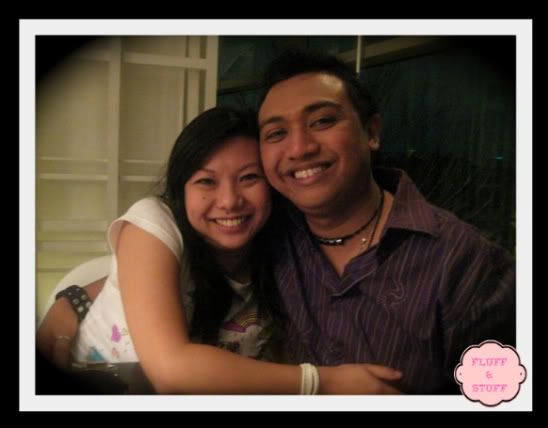 - the lovely "assistant" -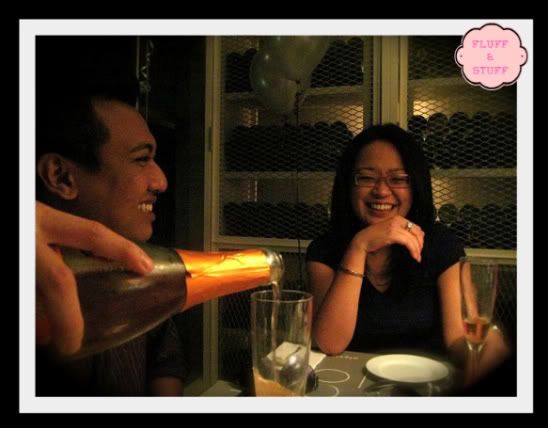 - the last minute birthday cake
-
- the special candles
& their magical flames
-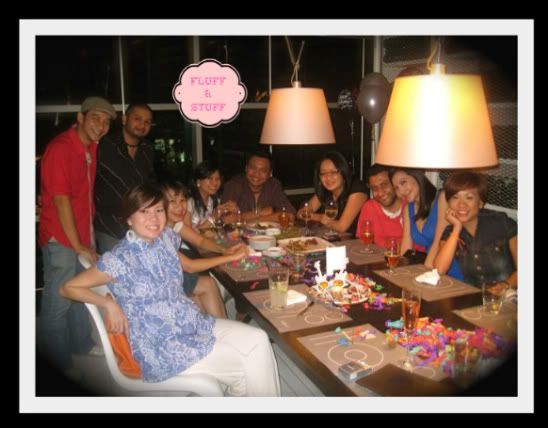 many thanks to everyone who joined us and for those that couldn't, we certainly missed you...