i received a call from lina, zain's colleague. she was planning her son,
isaac's 3rd birthday party
and didn't have a specific theme. according to her, isaac likes: dino, little einsteins, rockets, safari animals, trains, trucks....!
me being me, i could not work with not having a theme so with this list of isaac's likes in mind, i went window-shopping and came up with a dino-star-ous theme!
isaac was turning three but his friends were between the ages of (barely) one to nine. so you can imagine my initial headache in coming up with the goodies to place in each bag...in the end, i managed to prepare each party pack customised to their respective ages (somewhat) whilst sticking to the theme. lina also asked for a lil snack box of dino-biscuits and i had these personalised with each child's name and isaac's name too.
check it out: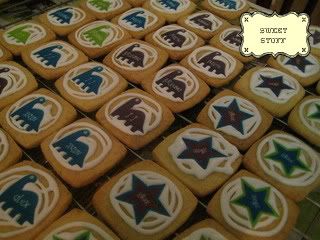 - dino-star-ous munchies waiting to be packed -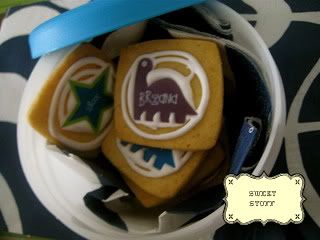 - the lil reusable snack box that had the dino-star-ous biscuits inside: half with the child's name and the other half with isaac's name -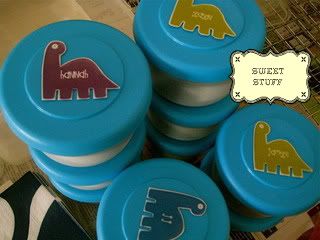 - star-tags personalised with each child's name. i had extra star tags and dino tags with each child's name so i threw them in their respective bags too. hopefully they find some use for these! -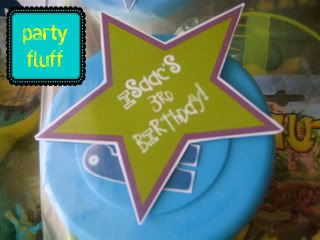 - the party packs had a star tag with isaac's name and age -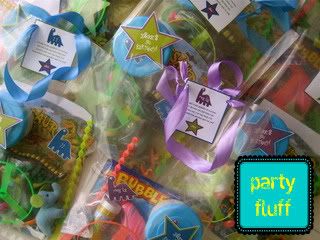 - each party pack had a dinosaur bubble gun (for the boys) and a pink bubble gun (for the girls)...for which kid does not like bubbles?! the packs also contained glow-in-the-dark stars to decorate their rooms, lil dinosaur figurines (the girls got a few of these too - in pink!) and a flying heli-propeller toy that kinda looked like star ;) the younger babies got a few mini soft toys instead of figurines -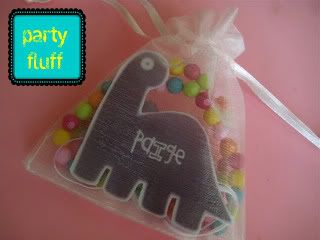 - since the theme was generally boy-ish, i threw in a special present for the girls: a small pouch with a dino-tag personalised with their pretty names -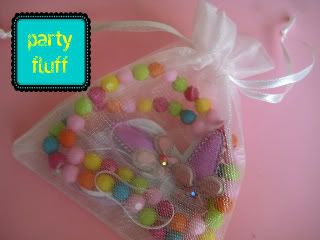 - each pouch had beaded bracelets, hair ties and hair clips with bling too -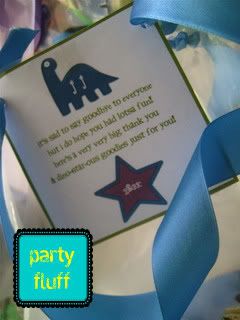 - personalised name tags for each guest and a thank you note from isaac -
as you may have already guessed, the colour theme was a mix of purple, blue and green - fun dinosaur colours for a hyper three year old.
i had loads of fun preparing these dino-star-ous packs and i hope isaac and his friends had even more fun unpacking them!
thanks lina, for this great project!