i find that when something edible looks too realistic, i am rather hesitant to eat it. so when it comes to icing biscuits without my standard sugar sheets, my style of icing is minimal and somewhat whimsical ;)
rather than focus on making them look as realistically close to the real thing, i prefer to enhance a particular shape with lines, dots and minimal accents. at a glance, you can still tell what they're supposed to be but they also look fanciful & simply playful.
therefore, when an ex-school mate presented the opportunity to come up with a biscuit set for her best mate janice, i was really excited. she was really cool too cos she let me have free rein over the biscuits, as long as they were purple and red. these were janice's fav colours. i also found out that janice, like most girls
our
age, loves to shop, party and have a good time. i immediately thought, "girls just wanna have fun"...
here's what i delivered: a birthday cake, shoes, handbags, bikini top & hot pants, champagne and hearts...all edible of course ;)
i packed and sealed all of these individually in mini plastic bags (so they'd stay fresh longer) and popped them all in a tin. since the tin itself was very plain, i tied an
XXL bollie
with a purple ribbon on the top and stuck a heart biscuit there too...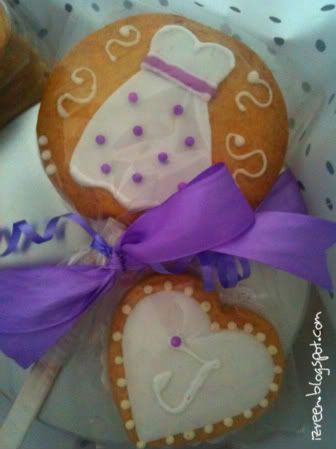 it was only after taking this pic that i realised these two look like wedding favors!
i had actually gone overboard cos we originally decided on six to eight biscuits but i ended up with fifteen! i was having so much fun that i even continued with other colours and designs (like the ones below) as freebies for my other orders ;)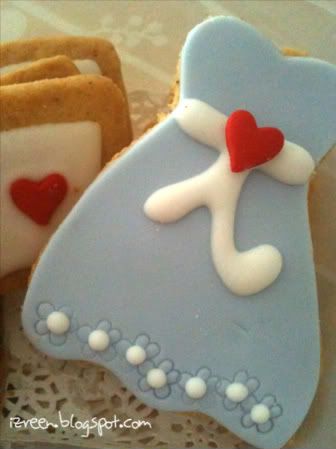 sorry about the blurry pics. my camera battery was low after i took the first pic above so i had to resort to my iphone for the rest!